Singlespeed Cyclocross World Championships 2013
Usually a chance of snow will send us photographers scurrying for the nearest field featuring a lone tree. Instead, yesterday I threw on longjohns, boots, two jackets, and gloves to watch people in gorilla costumes and Daniel's shower costume from Karate Kid race singlespeed cyclocross bikes through the woods. And it was awesome. Even Mayor Michael Nutter showed up to declare hand-ups legal. Click here for a gallery over at Flickr.
As racers lined up on Belmont Plateau at 11 a.m., the awesome view of the Philly skyline quickly disappeared as forecast snow moved in much earlier than expected. As the first wave – the "everyone is a winner" category – took off down the slope and turned hard into the taped section of the course, the snow was falling steadily. After watching the calamity at the one and only barrier, I tromped off to Belmont's Parachute Hill for what I expected to be quite the show. By the time I hit the trail, snow was falling steadily.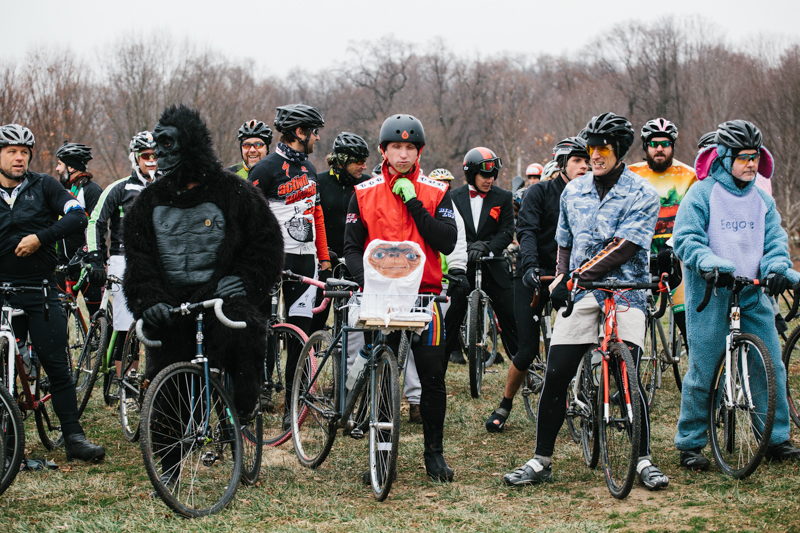 The good folks at Lone Wolf Cycling – sidenote: they make some awesome riding gear – did not disappoint and had quite the heckle pit going on the hill. Folks who could make it up the 9% gradient hill were alternately cheered and jeered. Those that couldn't received even worse – in a good way – treatment. Hazards included rolling blue exercise balls (I saw someone boot one and hit a rider square in the jaw!), megaphones for sonic debasement, and allegedly a fire extinguisher filled with cold water. Quite the treat when you're riding a bike in your tighty-whiteys.
I only managed to catch the "everyone's a winner" and the majority of the men's race before I had to hit the road. I had a sinking feeling the unexpected snowfall would make for a horrendous ride home and, indeed, it took about two hours to drive the nine miles back to my house.